A European
co-funded innovation
and lighthouse project on
Digital Industry
Learn More
The project receives grants from the European H2020 research
and innovation programme, ECSEL Joint Undertaking, and Natio-
nal Funding Authorities from 19 involved countries under grant
agreement no. GAP-737459 – 999978918.
The participating countries are Austria, Belgium, Finland, France,
Czech Republic, Denmark, Germany, Greece, Hungary, Ireland, Italy,
Luxembourg, Netherlands, Norway, Poland, Portugal, Spain, Sweden
and Turkey.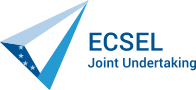 INTRASOFT International S.A.
LU
Teknologian tutkimuskeskus VTT Oy
FI
TTY-SAATIO (TAMPERE UNIVERSITY OF TECHNOLOGY)
FI