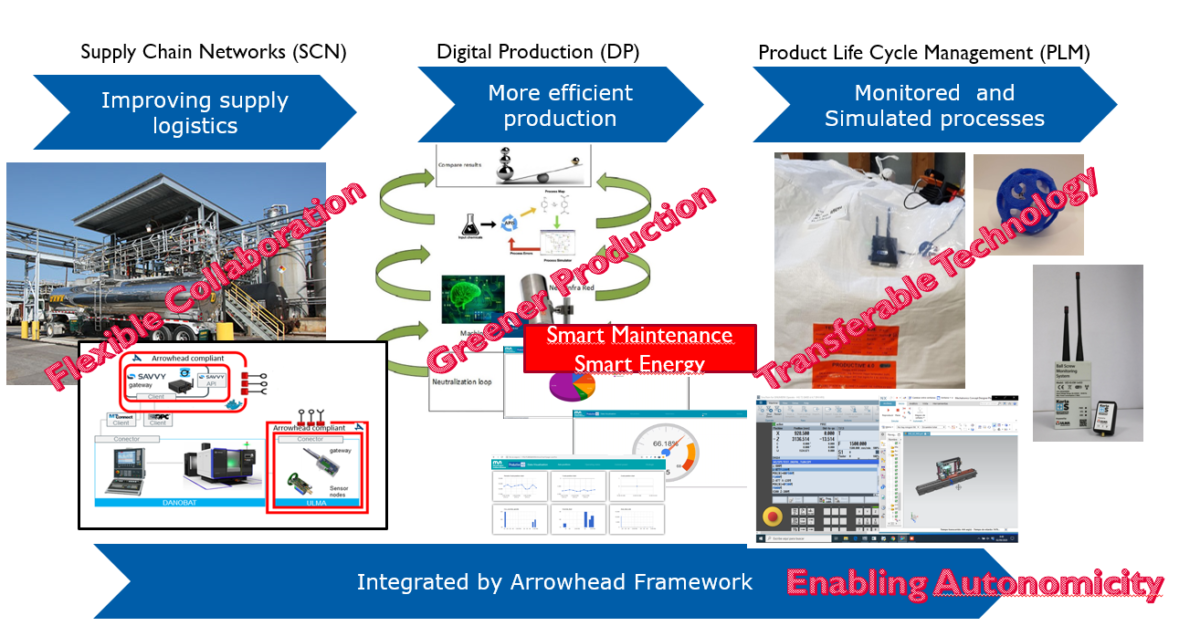 Big achievements
Big achievement: machine tool use case
A big achievement in Productive4.0 was made in work package (WP)9 which focuses on product use cases along the entire supply chain in various domains of the European industry. It demonstrates how product life cycle management will benefit from the capabilities of Digital Industry and IIot and technological and conceptual approaches in fields like service-oriented architecture (SOA), IOT components & infrastructures or process virtualisation.
Mondragon's transformation
The achievement in question was reached by Spanish partner Danobat in the field of machine tool building. The objective in WP9 was titled: From product based business model to product-service model. The aim was to maximise the value provided by the machinery provider to the customer along the whole machine lifecycle, with machines as cyber physical systems (CPS) and interdependent assets.
Together with Danobat leading the machine-tool use case, the other partners involved are all part of a Spanish ecosystem under the roof of Basque-based Mondragon Group. It comprises eight entities that were active in most work packages. Apart from Mondragon University representing the academic side and Ideko as an RTO (registered training organisation), there are six businesses focusing on various areas: Mondragon corporate office (MGEP), Mondragon assembly, Danobat (machine tool and production systems), Savvy (data systems), ULMA (embedded solutions) and MSi Group (digitalisation of production processes).
From product-based business model, to product-service model
In the project, Mondragon group defined a strategy and a goal to move from a strictly product-based business model, to a product-service model. It has defined a road map and examples of good practices to achieve this challenge. The specific use case has been used to demonstrate this work which Mondragon describes as follows:
In the case study, the Danobat grinding machine provides information on its components, production and context (temperature, vibration, speed, downtime…). Savvy is in charge of activating these functions using a SAVVYBOX gateway, which makes it possible to exchange data and commands with the platform in the cloud. In addition, using Docker technology, the Arrowhead framework is deployed in the gateway, enabling the interoperability of services in the plant. Thus, new functionalities can be presented at plant level, such as the incorporation of visualisation interfaces that consume the data provided by the grinding machine or the integration of the grinding machine in plant processes controlled by MES, PLM or ERP systems. To demonstrate the connection of other systems/services in the plant, a CPS provided by ULMA is integrated into the solution through Arrowhead's framework. This CPS integrates sensors into the spindles that provide pressure and temperature information.
Data from Danobat's machine and ULMA's CPS, as well as from third parties, can be uploaded to the cloud platform. This cloud platform collects and generates the data needed to provide information to stakeholders and create new tools and services. Third parties can access all this information through applications and services available in the cloud. Thus, innovative business models can be offered (preventive maintenance, life cycle management, etc.). Thus, the strategy and main goal of Mondragon group has been demonstrated: Danobat's machine tool is able to provide smart interoperable services. Now, Danobat's business is not only based on the machine tool product  itself but also in the services that it provides.
Smarter processes for more efficiency and flexibility
In other words: After the research work in Productive4.0, machines and sensors now ware interoperable with third party solutions. Smart sensors are available to integrate in future solutions. Software components are able to be monitored in model terms so that the machine tool can detect unsafe scenarios and send alarm to other involved services at runtime. Digital twins enable to check and compare the real and the modelled behavior at runtime. And, smart maintenance service is available now.
All of this allows for new business models based on the servitization of the products, an improved efficiency of the manufacturing processes with cheaper and sustainable products, and a proactive maintenance for an overall more flexible production.