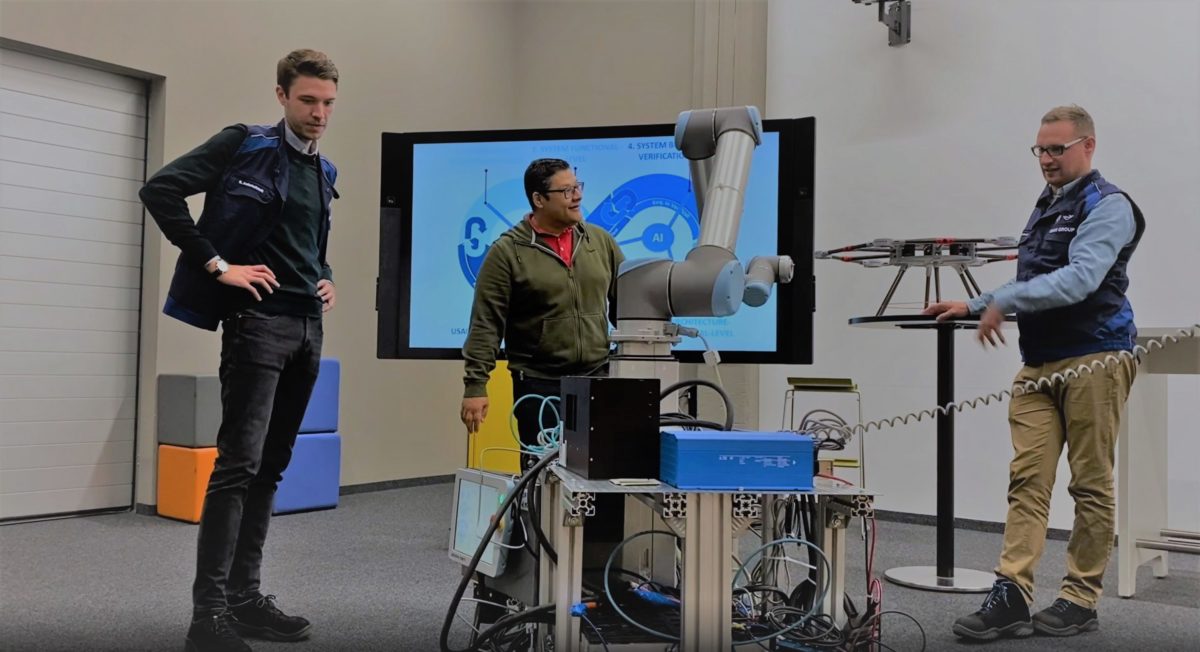 Big achievements
Uplifting Digital Production
Envisioning a smart futuristic factory, everybody would spontaneously think of business premises with automatic production lines, self operating robots or autonomous vehicles bringing goods to predetermined places. With Productive4.0 this vision is moving towards reality.
Even though some of these applications may have been realised already, the challenge is to set them up in a way that enables a smooth integration into an overall complex system based on the conceptual approach of virtual reality and safely handling big data. In short, they have to cooperate and communicate with each other.
Handling highly complex logistics
Some of the big real and robust project achievements were created in work package 8 which reflects a hands-on approach with practical solutions for the Digital Industry addressing product life cycle management and the supply chain at the same time. In collaboration with specialised partners, BMW plays a major role in the project.
With its highly complex production and thousands of parts that are delivered by suppliers worldwide, the German car maker is increasingly relying on innovation from the fields of digitalisation and Industry 4.0 in production logistics. This will ensure the company's global production network continues to receive the parts it needs in a timely and reliable manner. The focus is on applications such as logistics robotics, autonomous transport systems at plants and digitalisation projects for an end-to-end supply chain.
A subtopic that holds great potential to optimising current logistics processes within several industries are Automated Guided Vehicles (AGVs) which come along with a decrease in error rates, an increase in productivity and flexibility as well as a continuously secured supply.
Collaborative robot keeping things organised
BMW and German start-up Serva Transport Systems developed a concept and mechanically built up an autonomous forklift. The AGV under the name of AutoUnit is designed to enable the automated transport of large load carriers and pallets indoor and outdoor. Furthermore, it is capable of loading and unloading the trailer of trucks itself. "We define necessary requirements and develop the system in close collaboration. While Serva is mainly responsible for the manufacturing of the vehicle, we provide real-life use cases in our plants," says Benedikt Anderhofstadt from BMW.
Special technological features are, among others, the omni directional movement, the monitoring tower equipped with safety sensors and the fully automatic recharging of the vehicle. The omni directional movement facilitates the change of direction to avoid obstacles and to optimise routes. Furthermore, the recognition of intersections and vehicles is secured by the monitoring tower and can be obtained 20 meters ahead. The battery can be charged fully automatic through contact plates that allow fast and easy charging. In addition, the AGV ensures the protection of goods transported by a weather consistent housing that also increases workers' safety.
"In contrast to earlier technologies, the AutoUnit can optimise logistics processes via intelligent sensor technology and mapping," as highlighted by Thomas Irrenhauser from BMW. In addition to these mechanical developments, "a new chassis concept and braking system were developed as part of the research project. In the area of sensor technology, driving tests were carried out with an initial test setup. The main focus here is on the setup of 3D LiDAR sensors which are supposed to map the largest possible detection range", Leonhard Peklo from Serva explains.
Benefit of joint research
Serva serves as a good example for a highly specialised SME which can draw on its expertise in collaborative robots some of which are already in use moving cars to free spots in car parks, for example at Düsseldorf airport. Once again, the result of the use case underlines the benefits of joint research work between partners within the project.
Improving logistics in an industrial sector with a greater variety of cars meeting increasing customer expectations and legal regulations in the future, the AutoUnit reveals to be an important stone on the road to the digital factory.